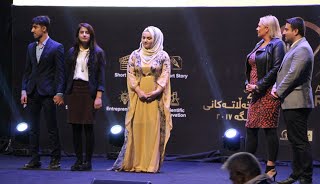 KUST Student Achieved to Get the 3rd Place in Recycled Art Competition
Categories

News

Date

November 6, 2017
Komar University of Science and Technology Students were actively participating in different competitions at National and International level. Recently RWANGA AWARD 2017 were announced and KUST students participated in this competition by 4 projects in 3 different categories namely (Recycled Art, photography and Short story). Out of many submitted projects for Recycled Art, one of the students from Civil Engineering Department (Drud Muhammed) got the 3rd place in the competition on November 23, 2017.
The aim of Recycled Art Catagory is to show the ability and skills of those youth who produce their artworks from waste materials in the purpose of protecting and preserving the environment.
Proudly, KUST faculty member, Mr. Twana A. Tahir was one of the selected and respectful judges.
KUST would like to congratulate "Drud" for his great achievement and wishing him all the best for future competitions.